Established in the year
2015
, we,
Riya Agro Products,
are a company successfully playing the role as a
Manufacturer
and
Supplier
of a wide range of
Herbal Essential Oils, Aromatic Essential Oils.
Oil has become the necessary product for everybody in the present time. All the oil products, which are offered by us, are health friendly, as we make these by using the fresh and high quality seeds or any other ingredient.
The oil available with us is known for high purity level and right density. Apart from the same, w
e also provide the service of the job work for extracting the oil from several types of seeds. As we work to achieve the excellence level in the products and business processes, we have earned much fame in our domain and also achieved the international level standard certificate
ISO
9000:2015
pertaining to following
FSSAI, GMP, HACCP standards
diligently
.
We have been awarded Startup Excellence Award-2018, in the category of "Emerging Manufacturer in Carrier & Edible Oils" by Indian Conventions.
The production in our company is carried out by Semi-Automatic and Manual Expeller and Rotary Press Machine, which enables us to manufacture 3.5 tons of oil per day. This helps us to meet the customers' requirement within time, irrespective of bulk or small order quantity. We have our team of professional employees consisting of sincere, dedicated, hardworking, packaging experts, quality checkers, and logistics personnel.

Our Quality Policy

The best and efficient way to please our esteemed clients is to retain the quality of the products. We take much care, right from the manufacturing to the packaging of every item, under our stringent quality policy. We conduct all the inspections, verification, and quality checks step by step from start to the end of the production. The upgrading of the system, being a part of the policy, is done by installing new oil milling machinery that facilitates judicious utilization of resources and allow minimum wastage.
Our Infrastructure

It is a known fact that the actual strength of a company is its infrastructure. Our well-set infrastructure enables us to carry out business processes in harmony while growing in the market efficiently. Some of the key traits of our infrastructure are as follows:

Advanced level of latest automatic and semi automatic machines at manufacturing unit.
Robust Expeller and Rotary Press Machine to carry out production in large quantity.
Well managed warehouse, equipped with the technically advanced level of storage facility.
Well-developed R&D and quality testing unit.
Monitoring tools to supervise various business processes.
Research and Development

It is a fact that a company can grow only if it continues to research and upgrade its production system. In order to do so, we emphasize upon analyzing the market scenario and technological advancement carefully, and implement the best suited options available. In the context, rigorous research and development has played a critical role in our growth within a short span of time. This growth extends not just to sales figures but also to adding variations in our product range and consistently growing client base.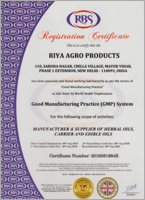 Read More